Gemar was raised in no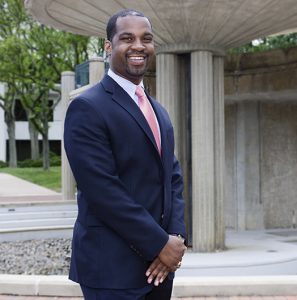 rtheast Baltimore, where he attended Baltimore City College High School. He received his bachelor's degree in Political Science from Salisbury University in 2007 and his law degree from American University Washington College of Law in 2011. He is currently a Managing Attorney at the Universal Title office in Upper Marlboro, Maryland.
Gemar credits much of his success to his Baltimore upbringing. "Growing up in Baltimore, I developed a mental toughness and relentlessness that made me feel that I could conquer any challenge placed in front of me. This tenacious mindset continues to be the driving force behind all of my endeavors." Gemar also credits his success to his family and friends. "From an early age, I was lucky enough to be surrounded by a supportive family and a group of friends who were just as ambitious as I was. My friends and I would often compete with each other to see who could perform the best and in the end, this approach led to solid achievements for all of us."
At Universal Title, Gemar serves as a Managing Attorney where he conducts real estate settlements and oversees residential and commercial real estate transactions from start to finish. "The title company is an often overlooked, but integral party of a real estate transaction. We make sure that our real estate transactions close smoothly and efficiently."
Gemar currently lives in the Arborside at Kendall Ridge community in Columbia, Maryland along with his fiancée, Marianna Boyd.
 YEP! He's from BMORE!