The second largest city in New York has a long and rich history. Once filled with booming factories, wealthy entrepreneurs, and the world's most impressive buildings, Buffalo had certainly seen better days. Faced with a declining population and mass exodus of companies, many believed that the city was well beyond the days of its prime. Thanks to a recent resurgence and efforts across the region to reinvent itself, Buffalo is again becoming a place to be for people of all ages. While I have been to the area in the past, I recently had the opportunity to experience it once again. After a weekend of exploration, learning, and fun, I can easily see Buffalo becoming one of my favorite places to visit.
Here are some of the top things to do for a culture-filled weekend in Buffalo:
Explore Buffalo's Rich and Diverse Culture
Visit the West Side Bazaar 
Buffalo's first world marketplace- The West Side Bazaar is a small business incubator providing entrepreneurs a safe and economic place to do business. It was built specifically to help those from Buffalo and around the world, both refugees and immigrants as local handcrafters. This community gathering place is filled with diverse foods and products from Asia to Africa. The welcoming vibe and neighborly feel show just why the Bazaar plays such an important role as a launchpad for businesses in the community. Be sure to try Nine & Night Thai Cuisine– hailed by many as Buffalo's Best Thai.
Shop at Black Monarchy 
Black Monarchy prides itself as a black-owned, global artisan and fashion lifestyle brand that promotes cultural confidence through Luxury African and African-inspired fashion. The founder and designer Phylicia Dove has done an amazing job opening its flagship location. As a lover of African culture and symbolism- my trip to Black Monarchy was both inspiring and comforting. To see so many items and clothing with patterns originating from Africa, India and other places being offered right in Buffalo was awesome! It was like traveling back to the continent and feeling right at "home." As Black Monarchy continues to grow in popularity and recognition, I cannot wait to see what's next.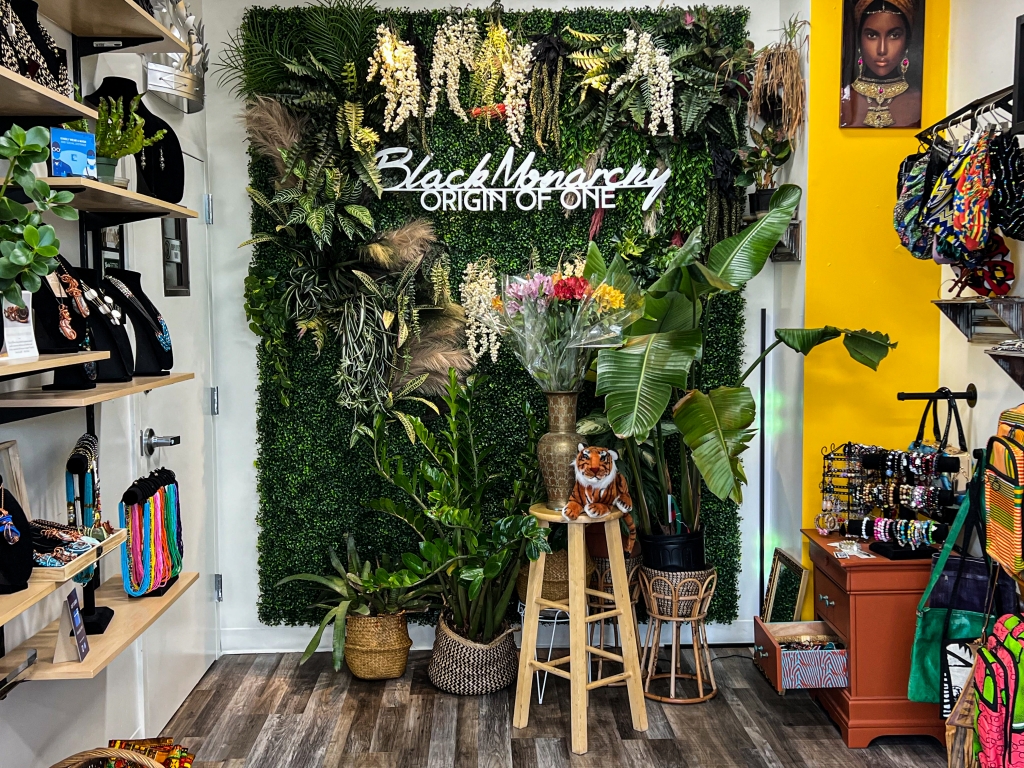 Tour the Nash House Museum
Reverend J. Edward Nash Sr. played a tremendous role in Buffalo's African- American community during the 20th century. He was the pastor of the Michigan Avenue Baptist Church which was often the last stop for fugitive slaves on the Underground Railroad before crossing over to Canada. The church was built by African- Americans in 1845 and served as a safe haven. Reverand Nash became the pastor in 1862 and was instrumental in founding Buffalo's Urban League and the local branch of the NAACP. 
Nash and his family lived in the house on Nash Street which has now become a community treasure and time capsule. There are many original items and artifacts located here which are sure to take visitors back in time and help to understand the significance of Rev. Nash to not just Buffalo, but the nation. The President of its Board of Directors, Mrs. Sharon Holly is a wonderful historian and guide for visitors who stop by. The feeling of inspiration and pride I felt when leaving the Nash House is sure to stay with me for quite some time. 
Visit the Colored Musicians Club
Buffalo's Colored Musicians Club and Museum is the only remaining African- American club of its kind in the United States. Located in the historic African American Heritage Corridor, this building has been designated as a National Historic Site. They are also the hosts of the Queen City Jazz Festival, an annual event that brings in top artists. The community hub which offers free jazz lessons to youth and jam sessions for local artists packs as much fun as it does history. The exhibits are interactive and will bring out the inner musician in everyone. Jazz legends such as Duke Ellington and Miles Davis once played here during their trips to the city. It continues to operate as a club and museum, with renovations and expansion currently taking place. A trip to Buffalo should certainly include a stop here!
Tour Buffalo's Public Art 
While traveling throughout Buffalo, one thing you're sure to notice is its vibrant art scene. Murals can be found on many of the city's buildings, leading one to stop and take it all in. Two of Buffalo's most popular artists are Alexa and Edreys Wajed. This husband and wife duo are creative change agents, and activists in their community. They describe Eat Off Art as "a multi-dimensional agency, platform, and affirmation all in one, providing transformative experiences through Creativity, Food, and Art, countering the adage of the "starving artist," in subscription to a new narrative of "thriving artists." I had the honor of meeting both Alexa and Edreys during my visit. Together, we connected over brunch and conversation, discussing everything from Buffalo's history to life at home in Maryland. The couple even took me on a tour to visit some of their most popular murals including the "Love Black Mural" "Freedom Wall", and "Let Your Wh"Y" Shine."  Impressive is an understatement, and it is clear why the Wajed's have received so many accolades and appeared on the panels of Buffalo's most iconic public arts projects. I cannot wait to reconnect when they're in the Baltimore area!
Feed Your Stomach and Soul
I had often heard that Buffalo was a great food city. My previous trips to the area did not give such an impression, but this one sure did! From the time I touched down until the time I departed, the city's food offerings did not disappoint. There are plenty of unique restaurants and food stops to satisfy whatever you're craving.
I particularly enjoyed my breakfast meal at Public Espresso– a downtown cafe that has an all-day menu serving in-house pastries and scratch-made breakfast, lunch, and dinner. The long line of patrons proved why the Lafayette Hotel location is so popular. I highly recommend the B.E.C.- scrambled egg, cheddar, bacon, and Special Sauce on a housemade English muffin. The sauce is definitely the secret to the desire for a second serving. Saturday brunch at Brothers Restaurant was a real hit. The large portions of soul-food favorites like chicken and waffles along with sides ranging from grits are perfectly seasoned and are likely to require a take-home container. Come hungry!
Another downtown favorite- The Flaming Fish has something to offer everyone. While it may appear to be a seafood-only restaurant, it is anything but. Menu offerings range from quesadillas to tacos. I visited during the busy lunch hour and observed as satisfied customers enjoyed tasty plates and conversation with familiar faces. This family-owned and operated business started as a food truck and continues to grow. 
For dinner, Graylynn is a relaxing gin bar offering small plates, burgers and pasties. There is also pub fare and an extensive cocktail menu. While I am not a fan of gin, the drinks here were so well crafted that even I had to order another. The outdoor seating area is perfect for a warm weather day while dining with friends or family. The view of the nearby M&T Bank and Electric Tower is breathtaking. 
Resurgence Brewing Company is the place to be for high-quality craft beer and food items. The community gathering spot features a state-of-the-art brewery and taproom as well as a beer garden. 
Perhaps the most enlightening and slightly exerting, but certainly entertaining method of eating your way through the city is on a Buffalo Bike Tours Wing Ride. During this fun and informative tour, you'll dive deep into the history of Buffalo's most famous dish- the Buffalo Wing. Riders will learn the history of many of Buffalo's neighborhoods and even meet and sample wings prepared by Lina Brown-Young. Her father, John Young invented Buffalo's first chicken wings. A stop during the tour includes a visit to the mural dedicated to Young and his permanent place in the story of Buffalo. What's a trip to Buffalo without wings?!
Take a Road Trip to Niagara Falls, New York
With its close proximity of just 21 short miles, no trip to Buffalo would be complete without a trip to Niagara Falls, New York. The short drive takes less than 30 minutes without traffic and is well worth it. 
Revisit the Journeys of Freedom-Seeking Slaves
One important stop that I highly recommend, is a visit to the Niagara Falls Underground Railroad Heritage Center. This center is an immersive and experiential museum that reveals authentic stories of Underground Railroad freedom seekers and abolitionists in Niagara Falls. Tour guides provide a detailed account and recollection of the lives of many who sought freedom from the U.S. by entering Canada. The mission is to inspire visitors to recognize modern injustices that stem from slavery and take action toward an equitable society. While small, this is one of the most well-designed and enlightening museums I have visited. 
Explore Niagara Falls State Park
No passport? No problem! Niagara Falls State Park is located just before the Canadian border. This space offers miles of hiking trails, dining options, and thrilling adventures. During my trip, I ventured into the Cave of the Winds. Descending 175 feet into the Niagara Gorge was exhilarating and left me drenched! Being able to experience the power of the Falls from the Hurricane Deck is definitely a rewarding activity for thrill-seekers of all ages. Luckily, ponchos are provided as the loud Falls are guaranteed to cover your body from head to toe. The caves are open almost daily and prove why it is ranked as the top thing to do in Niagara Falls. 
_____
While cities like Buffalo are often overlooked as tourist destinations, they are absolutely worth a visit. A place so packed with culture and history should be experienced by all regardless of background. There is something to offer everyone in this Western New York city known primarily for its stunning architecture and port history. I am so glad to have had the chance to revisit and get to know the real Buffalo. I look forward to making my way back to the BUF!