As a lover of arts and culture, traveling to attend unique events has become one of my favorite types of experiences. I truly believe that the best way to get to know and understand a city is through its people who call it home. While every destination has its popular landmarks and monuments, the soul lies within the communities and businesses that help to bring both locals and visitors together. One of the first things I check when planning to visit a destination is the local events taking place during my planned dates of travel. These are what I call the secret gems.
This year, I was extremely thrilled when Visit Jacksonville reached out to invite me to attend an event called Porchfest. After an amazing stay, I am already planning to attend again. Here's why you should as well.
What is Porchfest?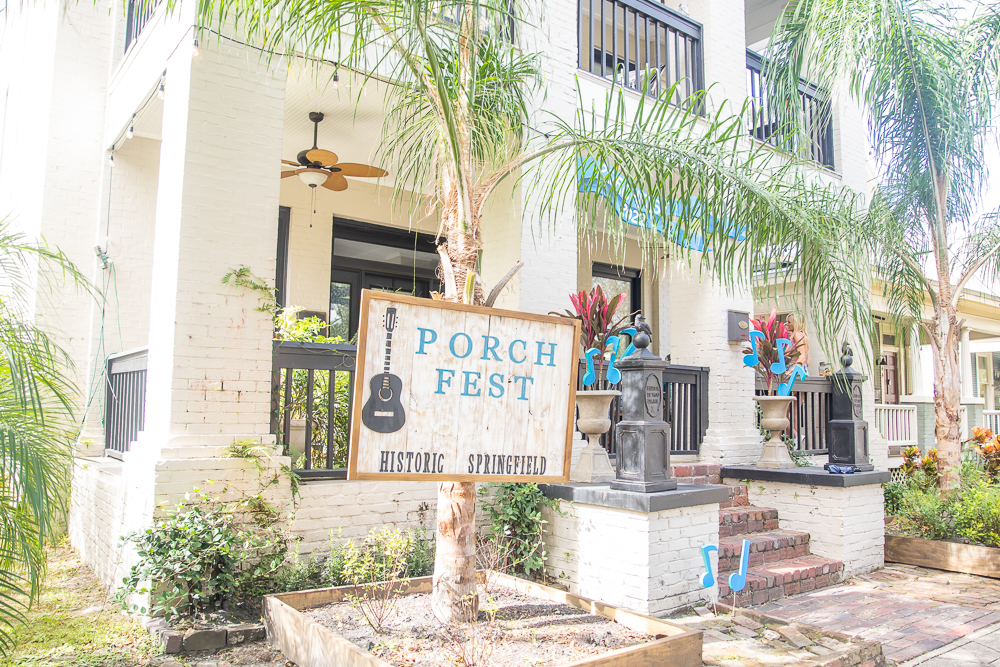 Porchfest is an annual event held in Jacksonville, Florida's Historic Springfield neighborhood. Springfield is a close-knit community located north of downtown. The styles of the homes include Colonial, Victorian and Bungalow. Together, they create a beautiful neighborhood that is one of the first federally designated historic districts in Jacksonville.
Each year, bands gather to perform on the porches throughout the neighborhood. While similar events happen throughout the country, Jacksonville's began in 2014. Although the area where Porchfest is held is only a few blocks long, dozens of groups and vendors come together to welcome over 10,000 attendees. It is said that each year, the event grows bigger and bigger. 
How to Best Experience Porchfest
The streets where bands and vendors are located are closed to vehicular traffic. This allows attendees to safely move about by foot or bike. Porchfest is also child and pet friendly.  All of the band's music is family-friendly. I highly suggest beginning at the main entrance area and then exploring the neighborhoods. There are parking lots and shuttles to ensure you safely arrive. A schedule and map are posted beforehand, making it easy to navigate the area and catch your preferred performances. The local food trucks and vendors provide a wide variety of food and drinks which are sure to leave your belly full. No worries! The music will keep you moving and burning those calories right off!
Who Benefits from Porchfest?
Thanks to a large number of sponsors, Porchfest is a free event. This allows performers to be paid as well. Donations are always welcome. The proceeds of Porchfest support art-related activities in Jacksonville's urban core. This is highly commendable, as I am a strong advocate of programs and opportunities provided in urban communities. 
Why Visit Porchfest?
As stated, Porchfest is a really unique experience. Growing up in a neighborhood of large homes with porches makes me appreciate just what makes this event so special. Welcoming communities of residents hanging on their porches, and engaging in conversation, while sharing food, drinks, and other items provides a sense of belonging that is often not found in many cities. This is what Springfield's residents stand for. The pride in both their community and this event is evident from the moment you step foot onto its streets. It is easy to not want to leave once Porchfest ends. As the trend begins to pick up in other locations, I can't wait to see these kinds of events becoming the norm. 
Other Things to Do in Jacksonville
With Porchfest being a one-day event, I highly recommend spending an entire weekend in Jacksonville. It is the largest city by landmass in the Continental United States. 
San Marco– No visit would be complete without exploring another historic neighborhood known as San Marco. San Marco is located close to downtown and is home to many boutiques, art galleries, and dining establishments. A filling and affordable breakfast/lunch at Metro Diner is the perfect way to start your day. The trendy wine bar – Taverna is also a must-visit. They offer Italian and Spanish cuisine in a stylish setting. Be sure to make a reservation as wait times can be very long. The Beach Buggy App provides free rides throughout San Marco from 5 to 10 p.m. On Fridays. 
Southbank Riverwalk– This boardwalk borders the St. Johns River and is a popular spot for joggers and tourists. As riverboats glide by, visitors can enjoy a spectacular view of the downtown skyline and TIAA Bank Field, home of the Jacksonville Jaguars. 
Visit the Beaches– Jacksonville is home to 22 miles of beaches, providing countless activities. The main beaches are public and home to shops, restaurants, and parks. Beachgoers can enjoy surfing, kayaking, paddle boarding, swimming, boating, and fishing. It's no wonder Jacksonville is often called Florida's best watersports getaway.  
With so much to see and do, Jacksonville is indeed the ideal Florida destination. Its convenient location and a wide assortment of activities and events offer something for everyone. The history, arts, culture, and well-planned events like Porchfest are a sure sign to visit and then do it all over again!