While I've been fortunate to visit nearly 60 countries around the globe, I always mention my desire to explore more of the United States. With most of our must see destination lists filled with major cities, it's often the small towns that sneak under the radar and steal our hearts. This case proves true for Tempe, Arizona. Located just ten minutes from Phoenix Sky Harbor International Airport, Tempe's proximity makes it the perfect destination for a quick weekend trip. I had the pleasure of being invited by Tempe Tourism along with three other Black Travel Influencers, Martinique Lewis, Tyler Janee Ward and Rondel Holder. The laid-back vibe and welcoming community immediately made us all individually feel right at home. 
Here's how I made the most of my stay in the city named after the Vale of Tempe in ancient Greece.
Accommodations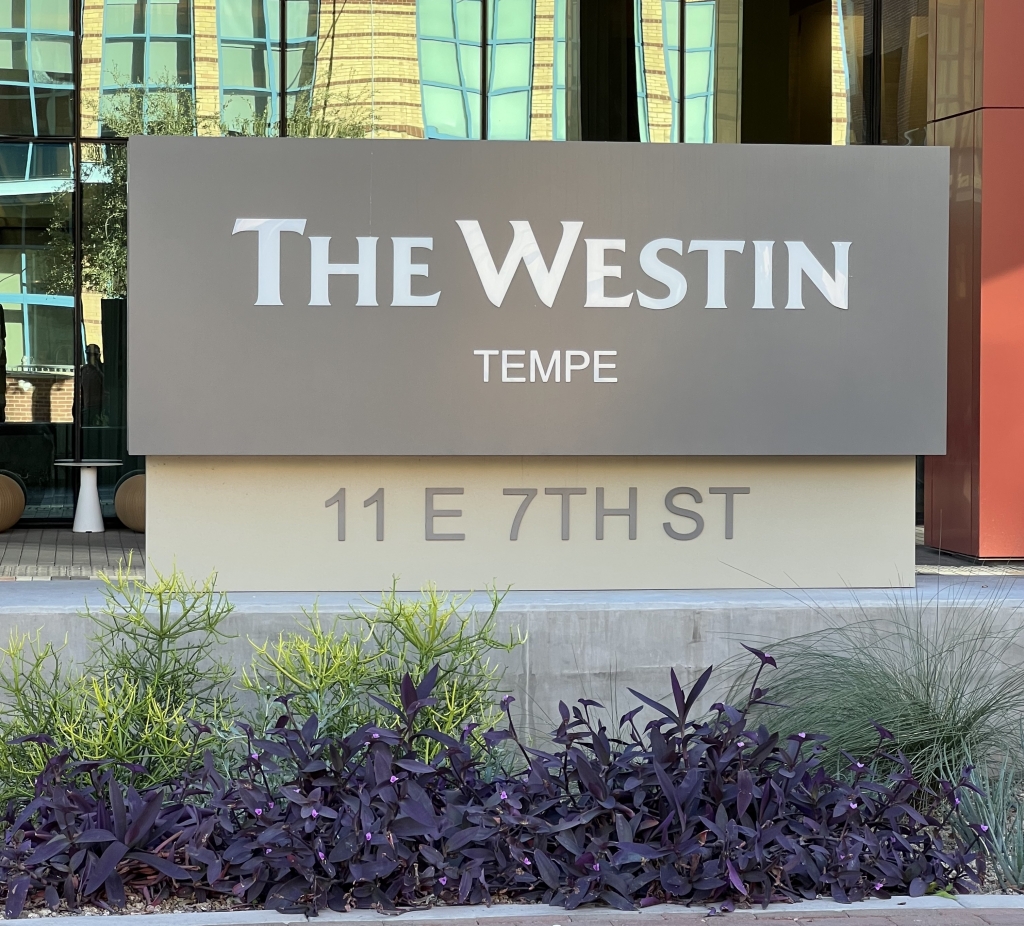 We were given the opportunity to stay in Tempe's hottest new hotel! Located right in the heart of Downtown Tempe is the brand new Westin Tempe. This hotel offers all of the amenities and convenience one could ask for. With 290 rooms and suites providing incredible views of the city including the famous Hayden Butte, locally known as "A" Mountain, a rooftop pool and bar, as well as fine and casual dining at Terra Tempe Kitchen and Skysill Rooftop Lounge, there was little room to be disappointed. The Westin is within walking distance to a large number of restaurants, retail shops and places of entertainment. It is also in very close proximity to public transportation and Arizona State University Tempe Campus. 
Excursions 
If the great outdoors are where you desire to be, Tempe is where you should be! Whether it's hiking, horseback riding or taking off in a hot balloon, there is something for everyone. Our weekend included all of those mentioned and what an adventure it was!
Hiking
South Mountain Park and Preserve is one of the largest municipal parks in the country. It boasts more than 16,000 acres including 51 miles of desert trails where a hike leads to breathtaking views. We opted to take the Marcos De Niza Trail on South Mountain along with locals Kurt and Deanna Mangum of coupleyfitt. Their infectious energy and knowledge of the area made for an incredible time of bonding and fun. The view is always better from the top as they say.
Horseback Riding
When I first learned that my trip to Tempe would include the chance to go horseback riding, I was instantly excited. It had long been something I wished to do, yet had never actually made plans to bring out my inner jockey. Just south of the city, the desert roads led me and my group to KOLI Equestrian Center. It's conveniently located in the heart of the Gila River Indian Reservation. KOLI offers miles of incredible scenery and breathtaking views. We experienced a sunset "walking ride" which kept it easy on all of us riders as well as the horses. 
At the conclusion of the ride, we were given tasty margaritas and enjoyed great conversation with our awesome guide Robert. With a visit to KOLI you're sure to enjoy some old school southwestern fun! 
Hot Air Balloon Riding
As a frequent flyer, it should come as no surprise that my favorite place to be is in the air! What better way to check off another bucket list item than with Rainbow Ryders Hot Air Balloon Company? The company has over 38 years of experience and has taken over 500,000 passengers on unforgettable journeys. With a sunset ride we enjoyed a trip of a lifetime flying high above the Sonoran Desert taking in more of Arizona's beauty. After a smooth landing we celebrated our flight with a champagne toast! 
Hole In the Rock at Papago Park
Papago Park is a municipal park shared by Phoenix and Tempe. A visit here would be incomplete without a quick hike up a short pathway to Hole in the Rock. This natural geological formation is a great place to catch the sunset as well, but arrive early to beat the crowd!
Tempe Town Lake
Located adjacent to Downtown Tempe, we took a relaxing ride along this two-mile lake. Cruising along in a donut boat rented from Boat Rentals of America was the perfect way to enjoy each other's company and see the beauty of Tempe from the water. Tempe Town Lake is accessible through Tempe Beach Park. There is also kayaking, sailing, rowing, jogging, skating and picnicking available for those who enjoy a variety of fun. 
Dining 
By far the most surprising part of my trip was discovering that Tempe is a food lover's paradise! There are so many unique restaurants, bars and breweries to check out. From unique coffee shops, to breakfast and brunch/lunch, dinner and late night drinks; it's impossible to be let down by the huge list of choices. Here is a list of a few I'd definitely recommend. 
Breakfast/Brunch/Lunch:
Monroe's Hot Chicken (Nashville style with great cocktails also!)
Romancing the Bean (Croissants and Sandwiches to die for!)
Dinner and Cocktails:
Terra Tempe Kitchen and Spirits
_
What helped to make my recent trip so special was the fact that it was nearly two years in the making. Ideas were discussed in 2019 with the plan to visit in 2020. The pandemic meant things had to be canceled, but Tempe Tourism ensured us that things would still eventually happen. 
I'm a strong advocate of going places where we as a community are genuinely wanted! Despite collectively spending nearly $130 billion dollars annually on travel, Black travelers are often neglected. Tempe Tourism's commitment to using diverse stories in promoting tourism is all of the convincing one could need. From suggesting Black-owned restaurants and businesses, to supporting local artists and minority communities, no one is left behind. 
Whatever reason you decide to visit Tempe, Arizona will be a good one! With so much to see and do, you're sure to not want to leave. I highly recommend spending a few days there solo, with friends and family or your partner. All you need is all in Tempe!
Editor's Note: This article was written in partnership with Tempe Tourism. All opinions are my own.