As mentioned in my San Juan Island recap, I was honored to be selected and explore the San Juan Islands in partnership with the San Juan Islands Visitors Bureau and the Black Travel Alliance. The two islands I visited were San Juan Island and Orcas Island. Following an amazing few days spent on the main island, it was time to head to Orcas Island. 
The horseshoe-shaped island is the largest of the San Juan Islands. Most of the island is rural and hilly, but here you will also find breathtaking forests, curving roads, and beautiful lakes. After my time in Orcas, I fully understand why the locals call it the "gem of the San Juans."
How To Get There
Although located 90 miles from the coast of Seattle, Washington, the islands are still easily accessible. While there are 172 islands and reefs in the country, only a few are able to be visited. The most popular are San Juan Island (the main island), Orcas Island, Lopez Island, and Shaw Island. 
By Ferry- If you have the time to spare, the Washington State Ferry offers service from Anacortes. This is about an hour and a half drive from Seattle. With this option, you are able to travel by car, foot, motorcycle, or bike to the islands. San Juan Island was my base before exploring. However, Orcas Island is also a great option to begin. I caught the ferry from San Juan Island.
By Plane- The quickest but most expensive way to visit the islands is to catch a flight. A short 40 to 50-minute flight from Seattle will land you on a few of the islands in no time. I flew Kenmore Air en route to San Juan Island and San Juan Airlines back to Seattle prior to heading home. This was by far the smallest plane I had ever flown on! Luckily, my belongings fit and there were no issues.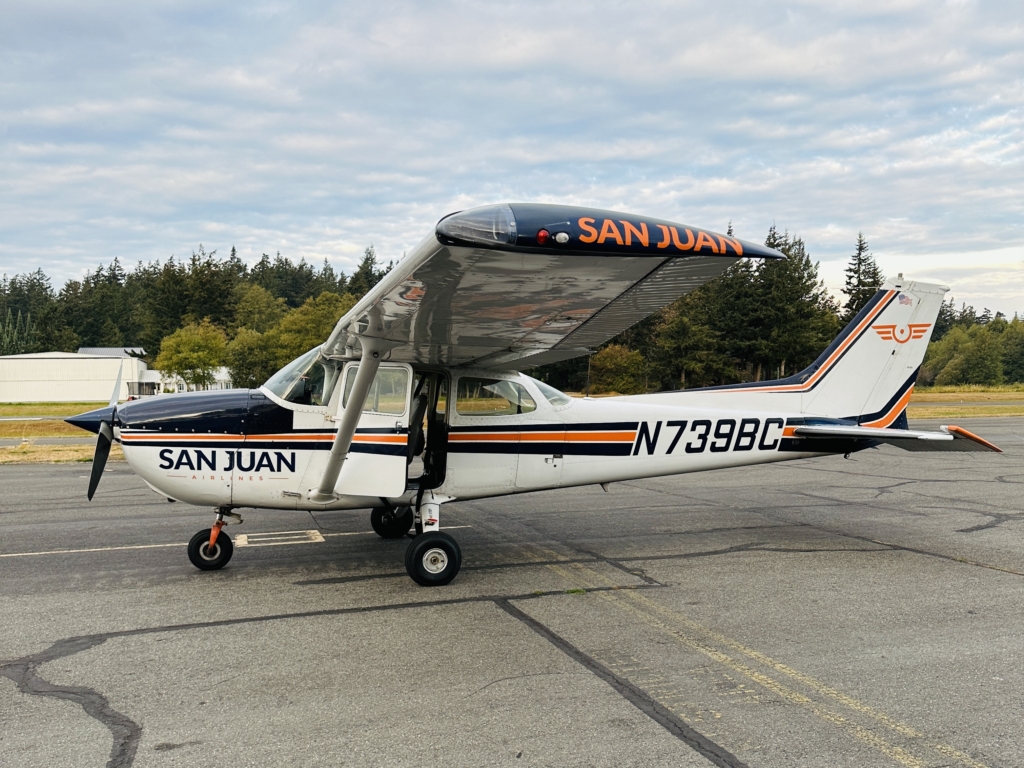 Once I arrived on Orcas via the ferry, I noticed an immediate difference from the port in Friday Harbor. Orcas Village was small and quiet with not much happening nearby. There was a hotel, a restaurant, and a few shops a short walk away, but things were much more relaxed. A short drive to Eastsound would soon change all of that. 
Here are some of the best ways to spend your time on Orcas Island
Explore Eastsound
Orcas Island's downtown is known as the historic village of Eastsound. Eastsound is about a fifteen-minute drive from the ferry. Here you will find many restaurants, boutiques, parks, and other places of interest. Eastsound is very walkable and family-friendly.  It is situated just above Fishing Bay and is very popular amongst locals and tourists.
Visit Orcas Island Pottery
Orcas Island Pottery is the oldest studio pottery in the Pacific Northwest. Patrons love visiting the pottery because of its original pieces and its unique location. The area is surrounded by cedars and Douglas fir on a 100-foot-high bluff. Two cool puppies also roam the grounds, keeping you entertained throughout your visit.
Enjoy a Wine Tasting at Doe Bay Wine Company.
Doe Bay Wine Company is located in Eastsound, the bottleshop and tasting room is a popular stop and offers wine, beer, and cider, paired with cheese and charcuterie boards. Each wine during the tasting offers something different and it is very easy to forget that it's only a "tasting." You may be inclined to request more and stay far beyond the scheduled timeframe. 
Explore Moran State Park 
Moran State Park is a true highlight of visiting Orcas Island! With over 5000 acres of lakes, trails, and picnic areas, the options of activities are endless here. There are picnic shelters, boat rentals, and more. Be sure to drive or hike up to the summit of Mt. Constitution, the tallest point in the San Juans. The views here are unbelievable. Head up for an even higher view from the tower built in the 1930s by the Civilian Conservation Corps.
Don't leave the park without visiting the Cascade waterfall. 
Visit Doe Bay and Doe Bay Resort
Doe Bay, the historic community on Orcas Island started as a sanctuary for Coast Salish tribes. There is a garden located here which is attached to the Doe Bay Resort and Retreat. The garden grows fresh produce year-round for the nearby Doe Bay Café which is a part of the resort. The garden's aim is to serve as a welcoming and relaxing space for guests, staff, and the community. 
The Doe Bay Resort and Retreat offers guests the chance to unwind and relax in cabins and campsites with saunas, soaking tubs, and scheduled massages.
Hike Obstruction Pass State Park
This secluded park is home to the longest beach on Orcas Island. Following a half-mile trail will lead you to stunning views of the ocean and its pebbly beaches. It is easy to spend hours exploring the park and its beauty.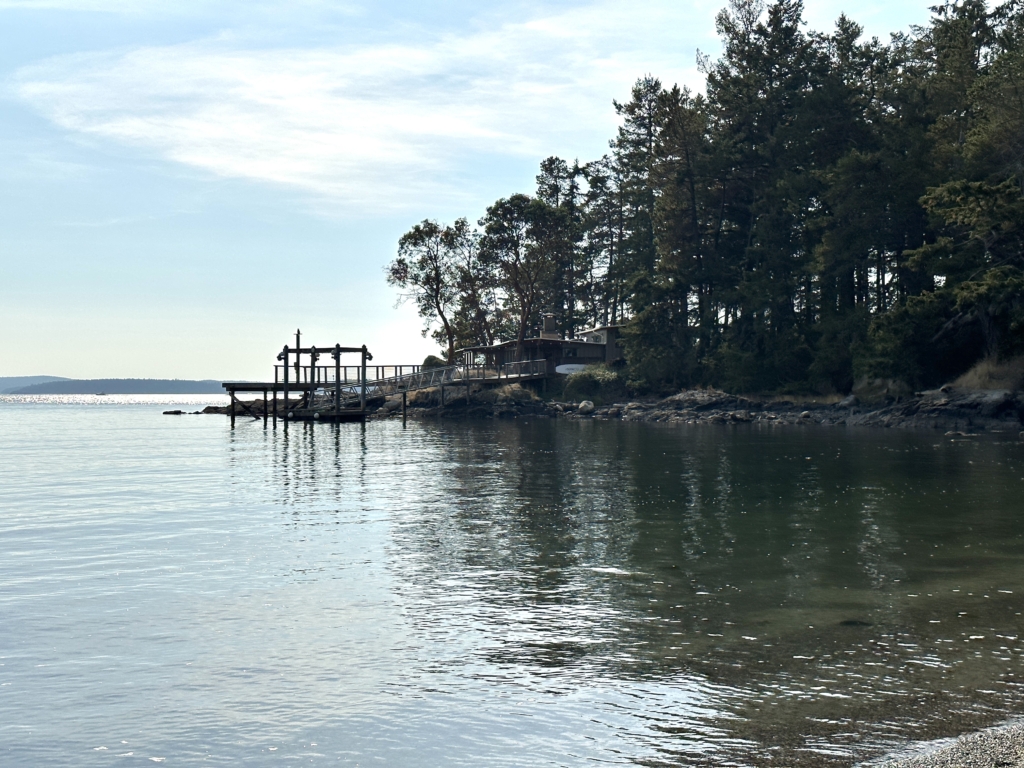 Dine at Incredible Restaurants
Orcas' choices of restaurants offer cuisine for all types of diners. The food here is fresh and satisfying. Every meal left me stuffed with no complaints and hardly any room for dessert. Some of my favorite places include:
Madrona Bar and Grill– Upon entering and hearing the upbeat music, I knew Madrona would be a pleasing establishment. The beachfront location also provides the perfect scenery while enjoying fresh bar food and entrees. The drinks are also great. Be sure to try the Lavender Mule!
Kingfish– Kingfish at West Sound is home to Chef Raymond Southern. His creative cuisine is fresh and made with ingredients sourced primarily from right on Orcas Island. The portions are huge and the restaurant's warm feel shows why so many locals love it. Outdoor seating is also available here as well.
New Leaf Cafe– New Leaf Cafe at Outlook Inn serves small plates (tapas) and drinks that are sure to please even the pickiest eater. The prime location just downtown offers views and an upscale environment if that's what you are looking for. Be sure to make reservations, as they are only open a few days during the week.
Relax at Orcas Rest
Orcas Rest is a huge 3 bedroom/2 bathroom rental property located about one mile from Eastsound. It is the perfect spot to unwind and rest after a long day of exploring the island. The 1.7-acre estate is surrounded by forest ensuring privacy. There are also amazing views of the ocean and the area from the outside deck. The large ceilings and huge windows allow sunlight to enter and get your day going. 
After visiting both San Juan and Orcas Island, it is impossible to say which I enjoyed most. Each island offers something different and unique and should both be visited. If Fall on the islands is this enjoyable and beautiful, I can only imagine what the other seasons are like. 
If you are considering a visit to the San Juan Islands, this is your sign to GO! 
Special Thanks to the Port of Seattle for making this trip possible.